Artists, writers, and composers are you curious what to expect during a residency at the Virginia Center for the Creative Arts in Amherst, Virginia? Art lovers do you want to know what goes on during an artist residency?
In July I spent fifteen days rewilding and working at the VCCA. This was my fourth time as an artist in residence at this lovely and peaceful place. There are typically around twenty-five visual artists, writers, and composers working here which creates an atmosphere of collective creative energy. In the studio barn, which was build in the 1930's, there are eleven writers studios including the funky little corn crib, nine 500-700 square foot visual artist studios, and three composer studios with baby grand pianos. There are two more writing studios in a cottage near the residence hall. All of the workspaces are private and assigned to individuals. I have worked in four different studios during my residencies here and they all had excellent natural light. The studios have work sinks, skylights, large tables, chairs, shelving, and little beds for napping or daydreaming. On this visit I worked for the first week in studio VA 2 then I was able to move into studio VA 7 which is the largest visual artist space at VCCA. One of the studios has an etching press and this space must be specifically requested. There is a don't knock policy in place for the studios but generally I have found that artists want to do a bit of show and tell at some point either for the whole group or informally at a time of their choosing.
While at VCCA I started four new paintings in egg tempera that are based on crystal grid formations which are geometric arrangements of stones designed to raise energy for a specific intention. Usually they incorporate crystals, and natural objects. I'm adding butterflies, spiders, flowers, and my signature red threads to these meditational paintings. This is new subject matter for me and I'm not yet sure where these are headed but I'm enjoying painting objects that are just really beautiful. My work is very slow going but I made significant progress in a short time period due to the focus this place brings me.
All meals are prepared for the residents at VCCA eliminating the need to shop for groceries or spend valuable time cooking. Breakfast and dinner are served buffet style in the dining room of the residence building and lunch, (typically leftovers from dinner plus sandwich and limited salad items) is available in the kitchen of the studio barn. Vegetarian options are available. I suggest getting to the designated chow area on time for the best selection especially at lunch. I like to bring my own tea and keep it in my studio. If you like a special coffee or snacks bring them with you. There are electric kettles, coffee makers, and a microwave in the studio barn kitchen to boil water and a shared fridge to store your labeled food.
The rooms in the dormitory style residence hall were recently painted and refreshed with new furnishings, carpeting, and sliding doors that lead to balconies or patios. The building still has a 1970's vibe. Most of the bedrooms have "Jack and Jill" style bathrooms which can be locked during use then unlocked for the benefit of your bathroom mate. This time I shared my facility with someone who locked me out continually but this is atypical behavior and it has never happened to me in past visits to VCCA. There is one bedroom available for couples and one that is wheelchair accessible. If you bring your own pillows, pillowcases, or towels I suggest you hide them come cleaning day lest they be thrown in with the communal linens laundry never to return to you. There are coin op washers and dryers to do laundry on the ground floor of the residence hall so bring quarters. Wifi is available in the residence hall and the studio barn but don't count on it for downloads or heavy streaming.
The grounds of the VCCA are a mixture of both wild and more manicured spaces. There are huge old boxwoods, trees and shrubs as well as overgrown kudzu and un-mowed fields. There is a secret garden with a fish pond, a sculptural fountain contained within large boxwood hedges, a gazebo, hiking trails through the woods, and a small outdoor swimming pool. The cows and horses that were formerly on the grounds have gone. Now there are bunnies romping everywhere as well a wide variety of birds, the occasional black snake, opossums, skunks, and a rumored bear sighting. Two miles north on route 29 towards the town of Amherst is the campus of Sweet Briar College which has lovely grounds, hiking trails, a lake, a library, and gym facilities available to VCCA residents.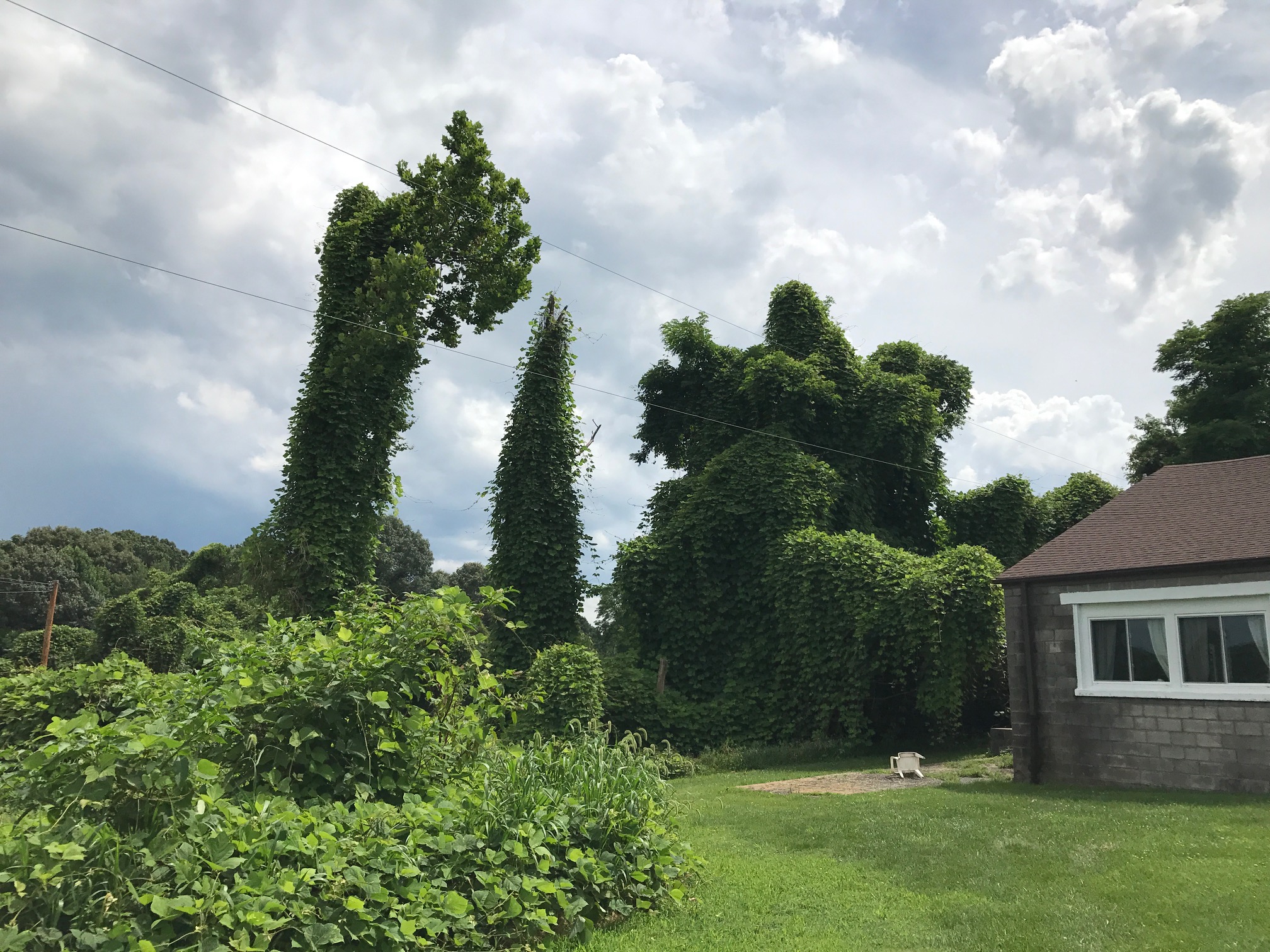 In the evenings at VCCA there are frequently readings, presentations, open studios, or mini-concerts by residents which are announced after the clinking of a glass at dinner. These events are of course optional but I have generally enjoyed getting to learn more about the work of people I meet and connect with here. The gazebo is a popular evening destination for informal gatherings on warm nights. There is a library and tv room in the residence hall for folks that don't get too loud after quiet hours. My favorite at dusk activity this summer was floating around silently in the pool and watching the bats dip down to the surface of the water to drink right in front of me.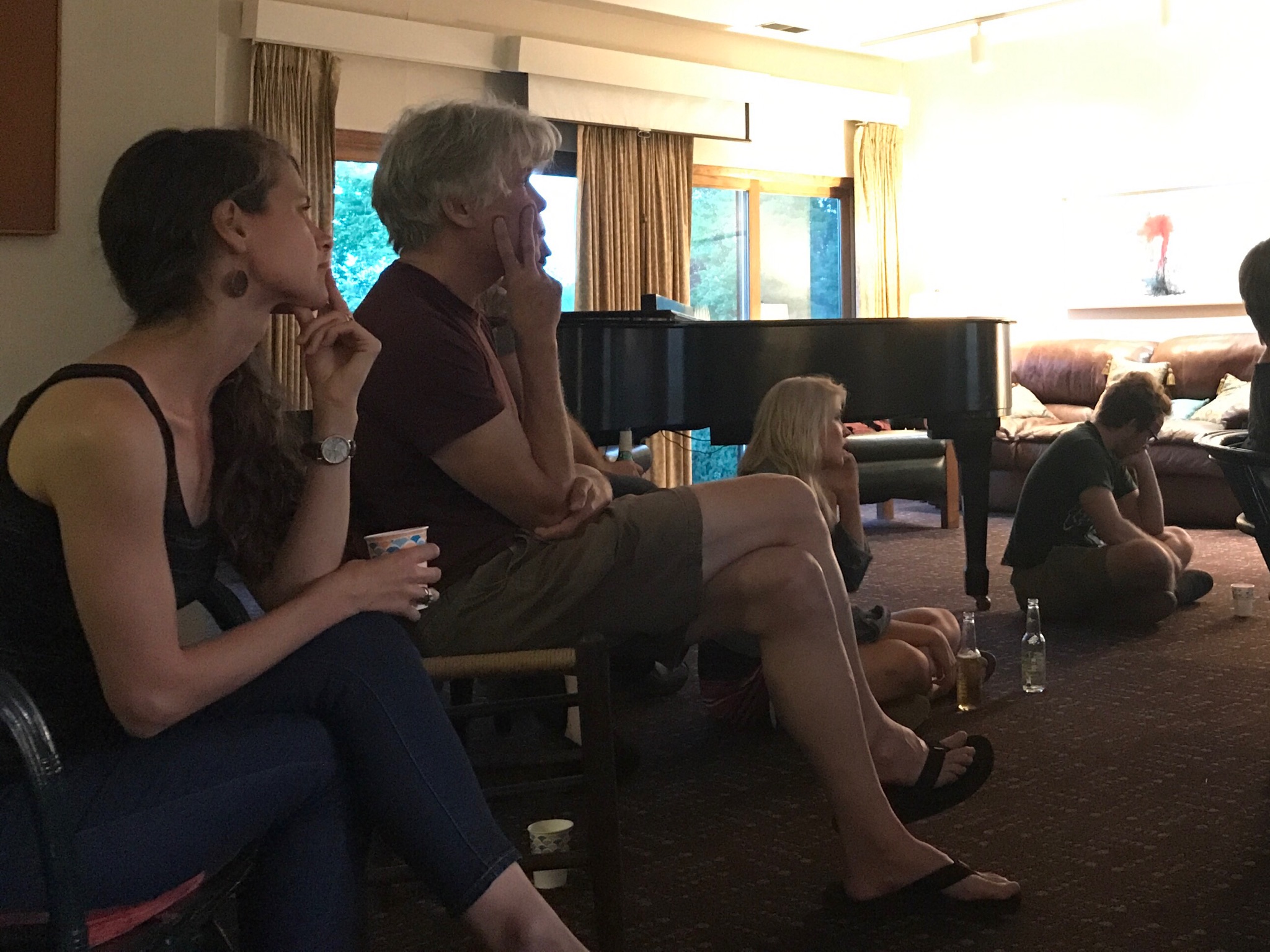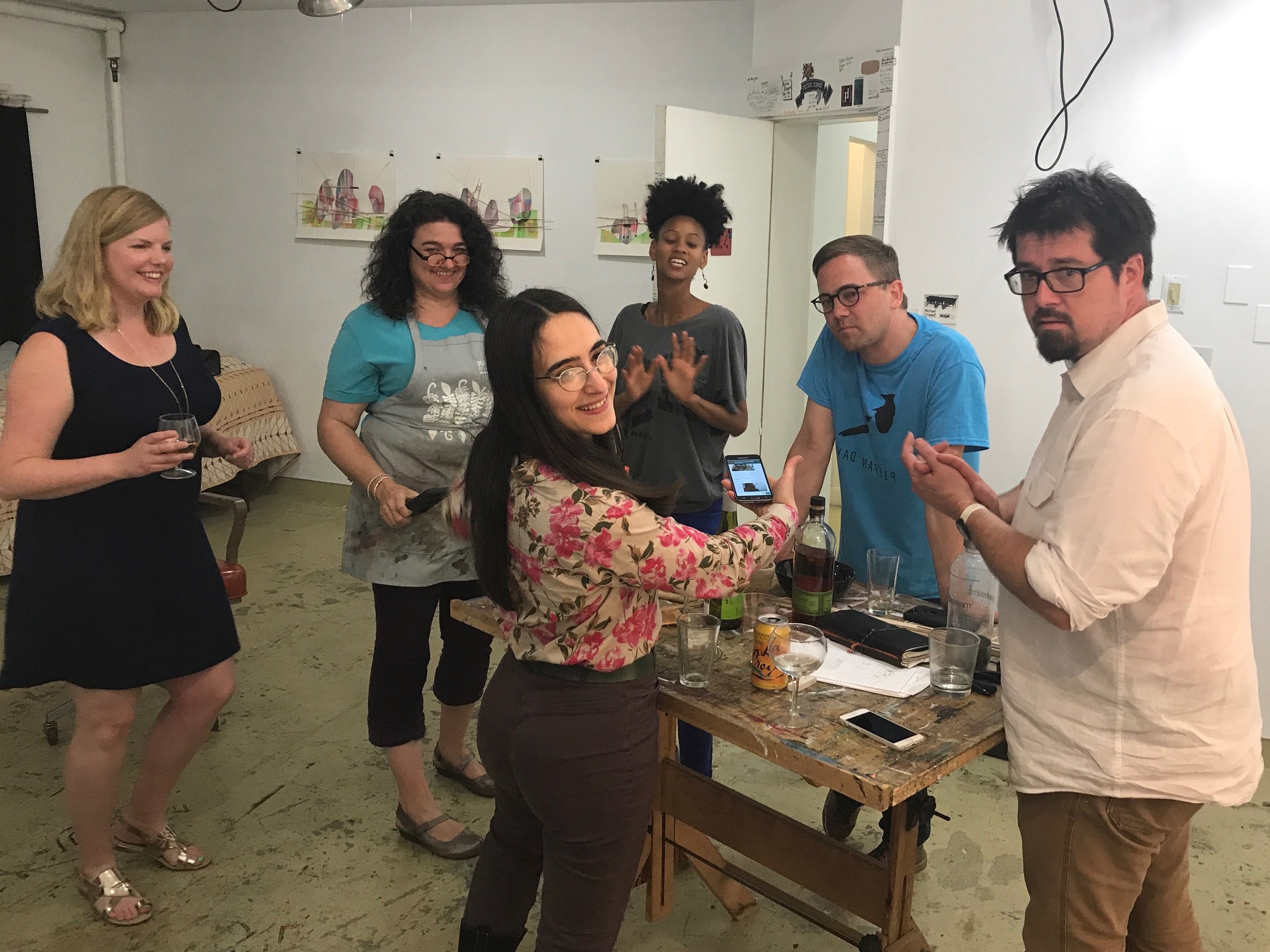 My fifteen days at the VCCA were very productive and calming. I started four new egg tempera paintings and I made very significant progress on three of them. I met lovely new friends including fellow painter of women, Mira Gerard, who lives three hours from me in Johnson City, TN. http://www.miragerard.com . Most importantly I was able to get my state of mind back into the creative spirit after feeling low for the past couple months. I'm so grateful for everything the VCCA staff does to support and wrangle us creatives so that things run so smoothly and we can have the privilege of working in this beautiful place.
If you are a visual artist, writer, or composer who would like to apply to this residency or if you would like to support the VCCA with a donation visit their website http://vcca.com .